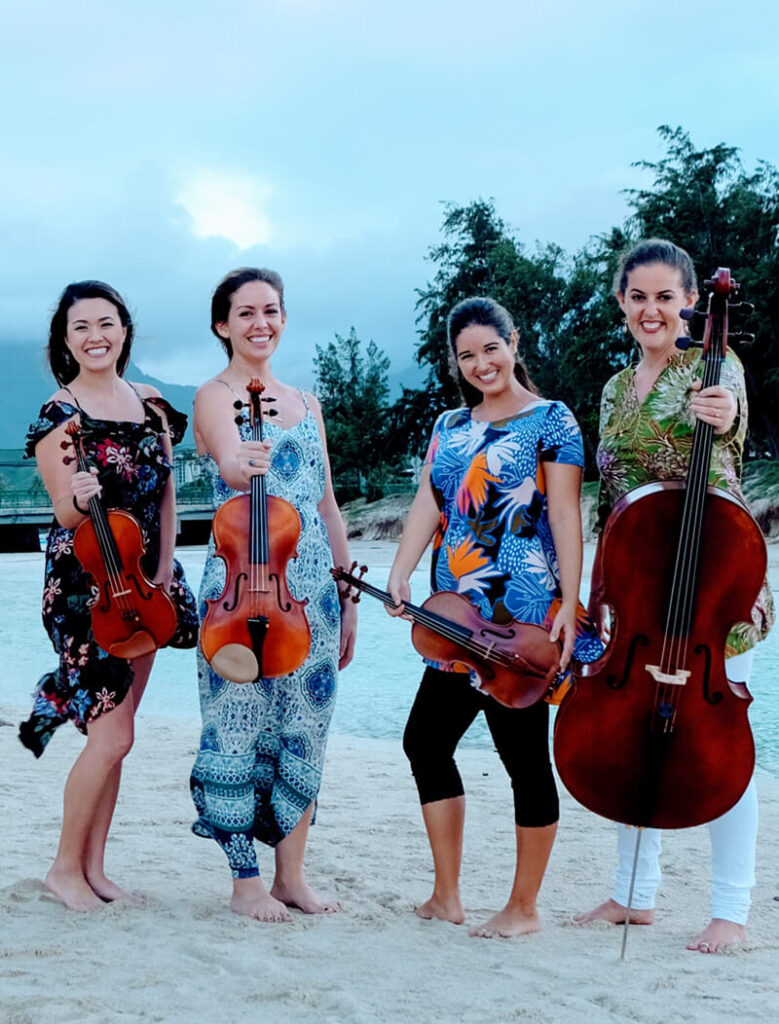 Kai String Quartet is one of the most sought-after Hawaii based ensembles for weddings, corporate events, and parties. The group performs both classical music, as well as original arrangements of popular contemporary songs, bringing a level of artistry and professionalism your guests are sure to notice!
"They were awesome! Very easy to work with for a classy performance!"
Violinist Rachel Saul, originally from Tucson, Arizona, performs and teaches with an enthusiastic passion for music and its life changing benefits. Rachel feels fortunate to currently live in Honolulu and is a member of the Hawaii Symphony Orchestra. She has enjoyed performing with the HSO since 2012, and also performs with orchestras such as the Hawaii Opera Theatre, Tucson Symphony Orchestra, Maui Chamber Orchestra, Hawaii Pops, Maui Pops Orchestra, Tucson Pops Orchestra, Hawaii Performing Arts Festival, Boston Philharmonic Orchestra, Atlantic Symphony Orchestra and more.
A graduate of Northwestern University Bienen School of Music, she received her Bachelor of Music studying under Gerardo Ribeiro, where she was a recipient of the Captain Maxwell W. Balfour Endowed Scholarship. During her undergraduate years at Northwestern, Rachel often held leadership positions with the Northwestern University Symphony Orchestra under the direction of Maestro Victor Yampolsky. She received her Master of Music degree from Boston University College of Fine Arts studying under Peter Zazofsky, where she also enjoyed opportunities as concertmaster and a soloist. Rachel made her solo debut appearing as a featured soloist with the Tucson Pops Orchestra in 2006, performing the Bruch Violin Concerto. She has participated in music festivals such as the Hawaii Performing Arts Festival, American Institute for Musical Studies (AIMS) Festival Orchestra in Graz, Austria, National Orchestral Institute, Atlantic Music Festival, Meadowmount School of Music, Rocky Ridge Music Festival, Interlochen Arts Camp, and Chamber Music in the Mountains.
Chamber music is Rachel's true passion, and she has worked with renowned world-class String Quartets such as the Muir, Pacifica, Takács, Pro Arte, Chiara, St. Petersburg, Miami, Chester, and Vermeer String Quartets. When not playing violin, she loves soaking up the sun in Hawai'i and enjoys performance and teaching opportunities in the community. She performs and records with diverse local award-winning musicians such as Makana, Jeff Peterson, Sean Na'auao and Mike Love, in addition to appearing in concerts at the Blue Note Hawaii, at the University of Hawaii at Manoa and Hawaii Public Radio's Atherton Performing Arts Studio. Rachel also enjoys giving other recitals across Hawaii, North America and Europe. In the fall of 2013, she co-founded the new After-School Strings Program at the Mid-Pacific Institute Elementary, and is a Teaching Artist with Kalikolehua – El Sistema Hawai'i. Additionally, she maintains a private violin studio and coaches chamber music at Punahou Music School.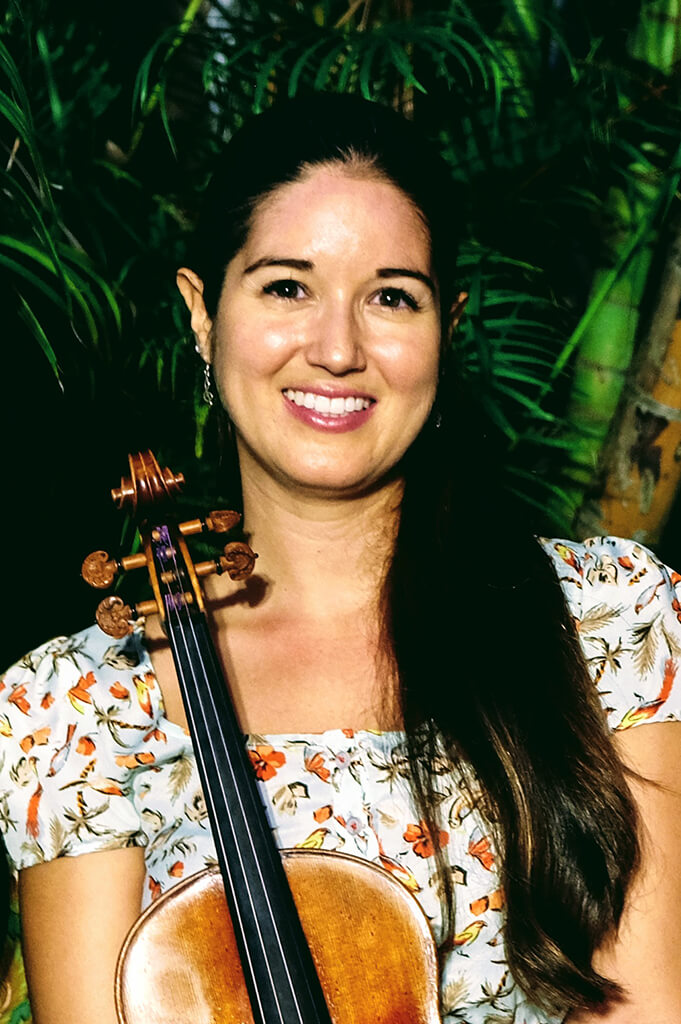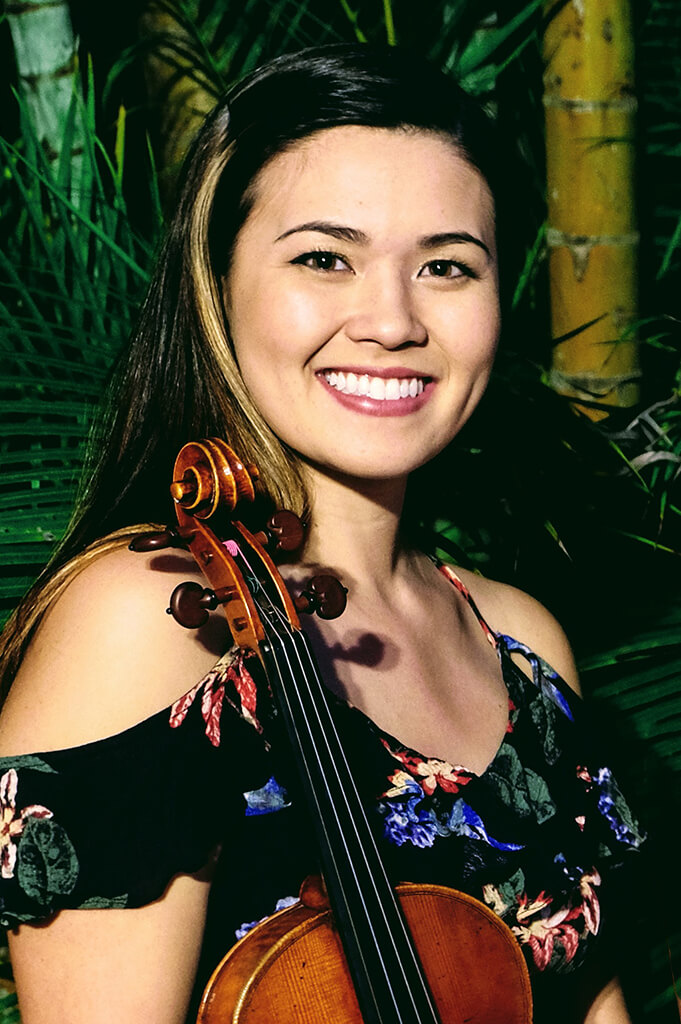 Violinist Lauren Holt began her Suzuki journey at the age of 2. She is a graduate of the Preucil School of Music in Iowa City, Iowa, where she studied under Kimberly Meier-Sims and Christie Felsing for fifteen years. Lauren attended many summer camps throughout the years, including Interlochen Arts Camp, ASI Steven's Point, Ottawa Suzuki Institute Mid-Southwest, Sound Encounters, and the David Einfeldt Chamber Music Seminar. She has also performed with the Preucil School Strings Orchestra under the direction of Doris Preucil, the Iowa All-State Orchestra, and the Ottumwa Symphony Orchestra.
Lauren graduated from Xavier University in Cincinnati, Ohio, with degrees in Music Education and Violin Performance. She has completed Orff-Schulwerk Level I training, Music Mind Games Units I & II, as well as Suzuki teacher training with Geri Arnold and Nancy Lokken. Lauren just finished her Master's in Violin Performance with an emphasis in Suzuki Pedagogy at Southern Illinois University at Edwardsville with Vera McCoy-Sulentic.
Violist Martha Seroogy, originally from De Pere, Wisconsin, started playing viola when she was 10 years old, studying with Matthew Michelic at the Lawrence Conservatory in Appleton, WI. At the University of Wisconsin in Eau Claire, she majored in public relations and music on the Cohen String Scholarship, studying with Allison Ostrander of the Minnesota Orchestra and St. Paul Chamber Orchestra.
Martha performs regularly with the Hawaii Symphony Orchestra and has enjoyed a prolific orchestra career playing with the Chippewa Valley Symphony, Eau Claire Chamber Orchestra, St. Louis Civic Symphony, St. Louis Philharmonic, Maui Chamber Orchestra, and the Maui Pops Orchestra. She is currently the director of marketing at Blue Note Hawaii in Honolulu.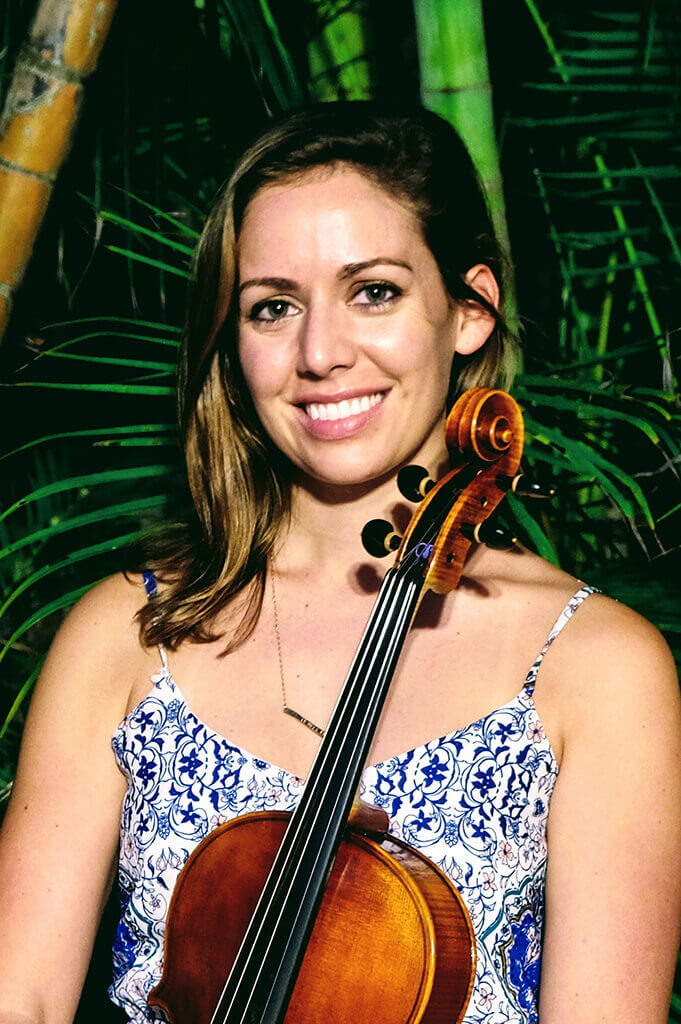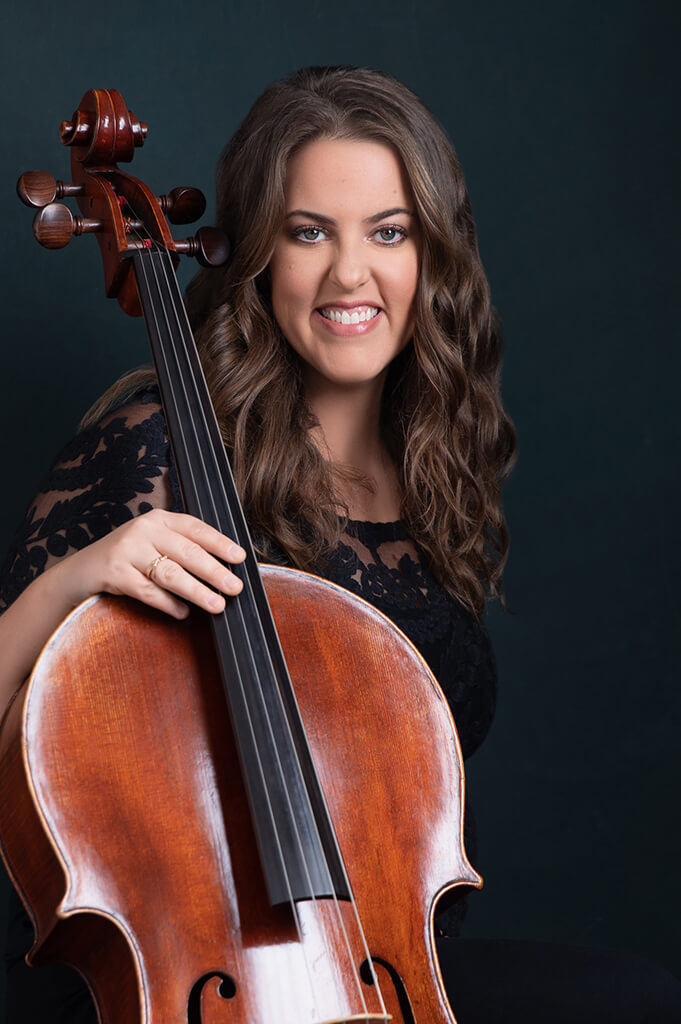 Born and raised in Seattle, WA, Cellist Anna Callner dove head and heart first into the rich world of the cello through her public middle school music program. After finishing high school in Seattle, Anna headed to the East Coast completing a double Bachelor in Cello Performance and Russian Literature from Bard College in 2002, studying cello under the tutelage of Luis Garcia-Renart and Diane Chaplin.
During her undergraduate studies Anna had the opportunity to study cello and poetry in St. Petersburg, Russia. After graduating from Bard College, Anna received a full scholarship to pursue her Master of Music in Cello Performance at Florida International University in Miami, FL. While at FIU she served as the teaching assistant to the Miami and Amernet String Quartets.
In January of 2014, motivated by an intense desire to be live closer to nature, Anna and her cello moved from Brooklyn, NY to Hawai'i, settling first on Hawai'i Island and then moving to the island of O'ahu, where she now makes her home with her husband, Ravi, and an ever-growing collection of instruments. Anna continues to build an active performing, teaching and recording career grounded in her ever developing practice of positive engaged action and collaboration with the natural, social and musical world around us.